PATENTSERVIS Online: Introduction
Patent and Trade Mark Agencies PATENTSERVIS offers applicants troughout the world full services in all fields of intellectual property rights.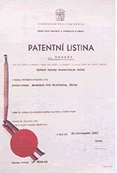 PATENTSERVIS Praha
At the beginning of 1990, in the first moment when it was possible to start private business after long years of its non-existence, the present main office, PATENTSERVIS Praha a.s., was founded as a totally independent and privately owned patent, trade mark and law firm, covering all scientific disciplines and legal services.
PATENTSERVIS Bratislava
When in 1993 Czechoslovakia was separated into two independent states, Czech Republic and Slovakia, our experience gained during the long years of existence of Czechoslovakia allowed us to found and independent branch office in Slovakia, PATENTSERVIS Bratislava a.s.
PATENTSERVIS Alicante
In 1997, relatively early after the European Community Trade Mark entered into force and Office for Harmonization of Internal Market (OHIM)started its activities, we broadened our services with regard to the Community Trade Mark and founded further independent branch office, PATENTSERVIS Alicante, S.A.
On the basis of the so situated agency offices the company PATENTSERVIS provides all kinds of professional assistance to legal entities and natural persons in matters regarding intellectual property (inventions, utility models, industrial designs, trademarks, licenses, appreciation, copyrights, arbitration and reconciliation proceedings, all kinds of suits concern intellectual property, consultancy and consulting services, etc.) including procuring and intermediating of said services.
In the last more than ten years, PATENTSERVIS obtained important international quality awards for their work in the field of industrial rights protection. We value the awards "The Best Office in the Region" conferred to us by the professional magazine Managing Intellectual Property (MIP)in the last seven years. They were conferred to us on the basis of recommendations of a broad group of professional firms active in the industrial property rights protection area in the whole world.