PATENTSERVIS Bratislava: Profile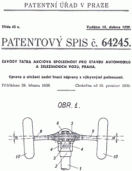 The joint-stock company PATENTSERVICE Bratislava was established shortly before the separation of the former Czechoslovak Federation. This allowed to the founders to prepare all organizational, material and personal conditions for activities of a new patent and trademark office in the independent Slovak Republic.

In the course of the year 1993 this firm oriented to the takeover of the inland Slovak clients from the mother company in Prague so that the industrial rights and appellation rights of the Slovak entrepreneurs were administered by the Slovak office.

Professional qualifications of the staff and the company background guarantee sufficiently and are a precondition for providing of integrated services in the area of industrial rights so that the customer is kept satisfied with regard to quality, scope and time.
PATENTSERVIS Bratislava a.s. is registered in the list of companies of patent attorneys, which list is kept by the Chamber of Patent Attorneys of the Slovak Republic and also with the European patent office (EPO) at Munich under the registration number 196.