Our staff
Our staff includes patent and trade mark attorneys, patent engineers and barristers with particular experience in chemical, pharmaceutical, electronic, mechanical and other fields, as well as in litigation, mediation, arbitration, copyright, unfair competition, licensing and technology transfers. We are proud that our patent and trade mark attorneys were among the first to qualify before (at that time) the Czechoslovak Patent Office, when the profession of registered patent and trade mark attorneys were renewed after long years of its legal non-existence. Needless to say that new members of our staff do not neglect to pass respective examination, this time before the Czech Patent Office and Slovak Patent Office.
Members of our staff permanently improve their qualification by participation on various international seminars, such as seminar of U.S. Patent Law and Practice, seminars for European Patent Attorneys, Euro Law Courses, seminars and workshop organized by European Communities Trademark Association (ECTA) and Office for Harmonization in the Internal Market (OHIM) concerning community trade marks and community designs, seminars of European Practice and further seminars, organized not only by the European Patent Office (EPO), but also by Swiss Federal Intellectual Property Practice (IGE), German Patent Office (DPMA) and various international organizations or private law firms. Special attention was given to the continuous improvement of qualification with regard to the access of the Czech Republic to the European Patent Convention in 2002 and to EU in 2004.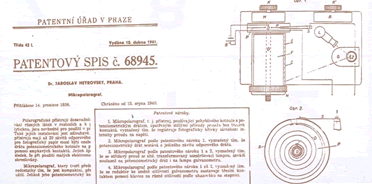 Problems, connected with copyright, unfair competition and border measures gain on importance every day. Our lawyers are therefore ready to give advice to our clients and to protect their interests even in the court proceeding. The same attention is given to questions connected with licensing, technology transfers and franchising. As a constituting member of the Czech National Group of LES our firm has broad experience even in these fields. Recently we started to improve also providing of our global IP services on a high international level, so called "Intelectual property portfolio asset management (IPPAM)".
Some members of our firm are regular contributors to various international journals connected with industrial property rights, such as Managing Intellectual Property, various MIP Yearbooks, European Trade Mark Reports, Patent World etc. And of course their contributions appear in similar Czech or Slovak journals, especially in the most important one, Průmyslové vlastnictví (i.e. Industrial Property), published by the Czech Industrial Property Office. For many years three of our partners are members of several editorial boards.
Rapid development of IP rights in cyberspace, piracy and counterfeit, especially in the field of trade marks, did not escape our attention. Thanks to an on-line connection with the Czech Industrial Property Office we can carry on a daily watch but also all kinds of searches including figurative trade mark searches within three working days. Domain names are also included in our services.